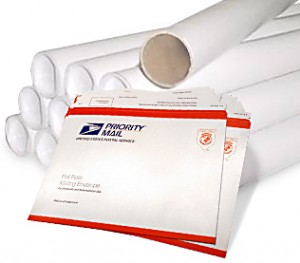 How Prints are Shipped
Prints and cards up to 8.5" X 11" are shipped, padded, in flat standard Priority Mail cardboard envelopes.
Larger prints exceeding 8.5" X 11" print size are shipped rolled in 3" sturdy shipping tubes. Prints will exhibit a bit of curl on arrival. They can be flattened by mounting them in frames or weighting them down for a day or so under a sturdy flat surface such as a drawing board or section of plywood.
Larger prints can be shipped flat, however they must be double padded with cardboard to insure they aren't folded or damaged during shipping. The shipping rates for flat packages are more expensive than rolled tubes.
This is a feature I'm planning to add to the shopping cart soon. If you would prefer to have a larger print shipped flat, please contact me before placing your order.
Shipping Methods
At this time shipping is only via USPS Priority Mail. This is so we can get a tracking number on the shipment; tracking numbers are not available on standard USPS mail.
Purchase of original artwork is also shipped with USPS shipping insurance for the price of the original, at no extra charge.
Shipping Costs
Shipping is currently free anywhere in the continental United States. For special orders, such as international orders or large prints shipped flat instead of in tubes, please contact me before placing your order and I will get back to you with a shipping cost.
Special shipping costs will be calculated by the USPS web site from Boise, Idaho, USA.
International Shipping
International shipping is ridiculously expensive; I have sent 3" tubes to France and the cost exceeded $35 U.S.D. Please consider I have no control over the costs of shipping international. If you are interested in receiving a print or original outside the continental United States, please contact me before placing your order and I will get back to you with a shipping cost.
Due to varying policies in your country, it may also take longer than expected to arrive as the package often sits in customs before actually being shipped. We have no control over this, sorry.