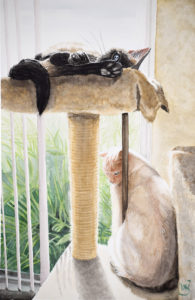 Original currently not for sale, on display in August for the SDWS Point Loma Credit Union show.
This was painted on New Years Day 2017, possibly one of the chilliest mornings I can remember for a few years. I told myself I needed to paint something warm and sunny, because I was totally tired of this rainy and chilly stuff. So I did.
This painting represents a couple epiphanies for me and was accepted into the
San Diego Watercolor Society Member Show
February 2017. As for the other amazing discovery . . . see my
blog post here
.