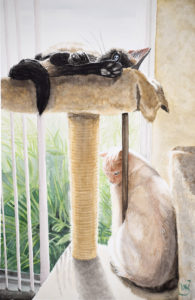 Most artists are already familiar with this, and although I've painted for many years, I am new to marketing my work. The following may be of use to those of you who are also just beginning to grow your career as an artist.
Last Friday evening I'd just returned from the artist reception at the San Diego Watercolor Society Member Show in which I have the attached piece I call "Warming at the Window" on display, my third public showing ever. This isn't about promoting this painting, it's about what I learned that evening.
One of the things I do at these receptions is sit as a bench in view of the work. In my many (too many) years I've acquired a small talent for gauging people by their body language and reactions. Some of them look at the work and turn their head in the direction they plan to walk before moving on, which tells me the work doesn't touch that part of them (or they flat don't consider it "art.") Others begin walking while their eyes are still fixed on the painting, something holds their attention. One girl got her nose close to the painting, her mouth dropped open, I could see her eyes studying up and down, left and right, for a good four minutes or so. Sadly, I missed the opportunity with her that I discovered several minutes later.
A man and his date, or maybe daughter, hard to tell these days, pointed out my painting from across the room with a huge grin (I love those the BEST! :-D ) They walked over, fingers pointing, looking close, standing back, discussing my work. I decided I was GOING IN.
This scares the living crap about me. Artists who are known in the circuit have no problem because everyone knows who they are. If you're unknown, you're just some stranger interrupting their space.
Approaching someone when they are being intimate with a piece of art is the equivalent of sticking your head in a stranger's shower stall and asking them if they have an extra bar of soap, or if the water is fine today. It feels invasive and rude. But something told me to TRY.
Just as he turned away from "Warming at the Window" after that lingering look I described, I stepped up and asked, "excuse me, would you mind telling me what you liked about this painting?"
With a charged excitement he replied, "I feel the warmth! I can almost feel the sun coming in the window, and she (his date/daughter, who knows) likes cats." I told him, thank you, that was exactly what I hoped it said.
I related the story of how it was painted: New Years Day, it was numbingly cold, and I needed to paint something warm, so I did. That inspired the usual questions about how long it took (one afternoon,) techniques I used (see the Instagram WIP post,) and other things about it that HE found interesting.
He talked about the attention to detail, which set it apart from a lot of watercolor work, founded in my architectural drafting and airbrush background. I mentioned the recognition of the Zen Masters that cats are, and what they have to teach us about living in the moment. When it wound down, I thanked him again, and left him to the rest of the show.
Many of you might say "should have . . . . " offered more info, asked if he was interested, shoved a business card up, marketed more, but at this point it "feels" like a car salesman pushing a '72 Pinto. When it doesn't feel that way, I will. This was a huge breakthrough for me, and a win.
Now you know about the girl with her nose in the painting, mouth open in what appeared to be awe, studying the work for four minutes, she was feeling something huge. Something I should have asked her about. I missed that one, and it's not going to happen again.
Epiphany #3 is this: when it comes to what you are passionate about, something that defines who you are, and your fears and the little voices in your head that say "don't, you'll look like a fool!" stand in your way, don't listen. JUMP. And when you jump, be authentic, MEAN IT.
Do something that frightens you and it will teach you something IMPORTANT. Every. Single. Time.
---
---