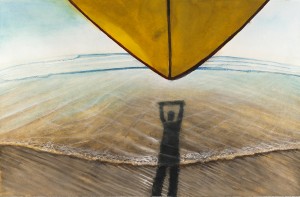 On July 29, 2013 I began a journey on Facebook to post one thing I was thankful for every day. It wasn't for my friends or to show how damn cool I was, it was something I did for me, a chronicle of why I owe it to the universe to be thankful.
In order for anything - an apology, a social gesture, a thank you - to have any power in your life, you have to mean it. I tried to avoid the cliches (family, friends, water, air . . .) and express gratitude for items that were specific to me, things that helped form who I am and showed me who I wanted to be. Things I truly believe and feel down to the bone.
Every single day for a year is a pretty long time. There were days I felt empty and had nothing, but found the emptiness led me to something anyway. It taught me so many things, things I never knew about myself, some of which I didn't want to know but needed to know.
I present my year of thankfulness below, and hope it inspires you to begin your own journey of thankfulness. It will lead you to more abundance and joy than you could ever imagine without it.
---
---