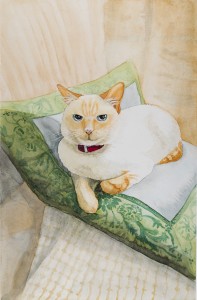 "A nation's progress can be judged by how they treat their animals." -Gandhi
Nefertitti and Cleopatra, both Siamese, both "runts" and the smallest cats ever . . . . About mid September 2009 my wife took our cat, Nefertitti, for a regular checkup at the Valley Animal Hospital in Grants Pass. Neffi is a small Siamese, likely a runt, who'd been master over us for about a year and a half. We'd tried socializing her with other cats, but she just wasn't into it - in fact, she would attack to kill, requiring liberal amounts of water spray to change her mind. Such a little cat, such a huge attitude.
During this office visit there was an even smaller cat there, a white flame-tipped Siamese. At first Neffi tolerated her . . . then began socializing . . . and to our surprise, started getting along.
The doctors told us this tiny cat was left on their back doorstep with three day old kittens. She was so starved and thin she was too weak to run away. Of course they took her in, and nursed her back to health.
During this visit the doctors told Zarifa the cat was welcome to a good home with one condition, that she must become an inside cat. This was fine with us, Neffi is also an inside cat. Neffi would have a playmate, which we thought would attract some of her attention away from clawing our legs in the morning and announcing her boredom with loud meow's at 3 AM.
There was never any doubt about her name. Zarifa named her Cleopatra; what other name would it be living with Nefertiti?
On the first visit home, I could tell Cleo had a serious attitude, but it was one that could be calmed. She has crystal blue eyes, a trademark of Siamese, with a soft fur - not hair, like most cats, and marked with light reddish colors on her head, feet, and tail only, hence the name flame-tipped. There is a distinct "M" marking on her forehead, we frequently wonder if Maat would have been a better name.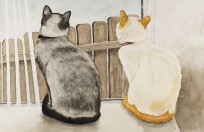 Cleo now lives as you see here, second queen of the household, affectionate and healthy. We're not sure who the top peg in the chain is, they seem to trade back and forth.
Cleo is one of the ones who got away. Thanks to Valley Animal Hospital, as you can see, she is happy and well.
---
---