Show Dates:
May 6th, 2017 -June 30th, 2017
Opening Reception: Saturday, May 6th, 2017 from 7 – 9PM
Location:
City of Brea Art Gallery
1 Civic Center Circle
Brea, CA 92821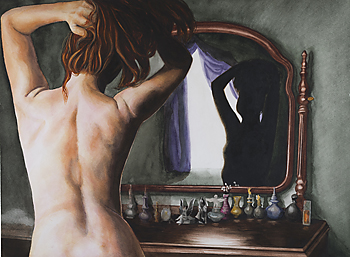 This week I am honored to have not one but two of my works accepted into the 32nd Annual Made in California show held by the Brea Art Gallery in Brea, California.
"Morning at the Mirror", which received a Juror's Commendation at the San Diego Watercolor Society's September 2016 show, is a 24" X 18" watercolor inspired both by the morning light and one of the most powerful anchors in my life. "Morning at the Mirror" is one of the pieces in my Heroes series, a collection of paintings dedicated to the shining stars among us who cannot help but inspire just by doing what they love.
"There Goes My Hero", a more recent 18" X 12" watercolor, is from my It's Up to Us Series. We can't make people take responsibility for our world. All we have control over is ourselves: our actions, our habits, and our undying ability to inspire. "There Goes My Hero" is a dedication to those among us who take the simple, childlike actions in a world of chaos that keep us all human. If there is a future for us, it lies in what we teach our children.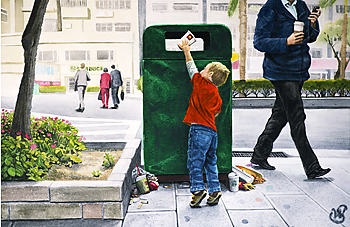 As the Brea Art Gallery's Made in California Exhibition approaches it's 32nd year, there have been many improvements in diversity and style with every year, which makes it even more thrilling that I have had two pieces selected. Artists have to maintain California residence, and in 2014 the Gallery moved to a three-juror panel, selecting a mere 90 artists out of a total 1,049 entries. It's not proper English, extremely bad style, but I'm a surfer and I am TOTALLY STOKED.
The free opening reception is 7-9PM on Saturday, May 6th and I look forward to seeing you all there!
Update 05-26-2017: "Morning at the Mirror" was purchased via the Brea Gallery by a private collector in Fullerton, CA. Prints still available.
Update 06-30-2017: Brea Gallery had a closing reception Friday, June 30th and I was fortunate enough to meet with the buyer of "Morning at the Mirror" for a few minutes.
"I go to a lot of shows looking for something from artists I am not familiar with and getting to know some of them. I am almost totally now collecting watercolors, but have many oils, as that is what I started with when I started to collect. I have always liked nudes in either medium, and when I saw youts and its suggestiveness I just loved it. I usually don't see much I like at this show, but always look forward to Watercolor West toward the end of the year."
---