Show Dates:
August 1, 2017 – August 26, 2017
Location:
SDWS, Liberty Station District
2825 Dewey Road, #105
San Diego, CA 92106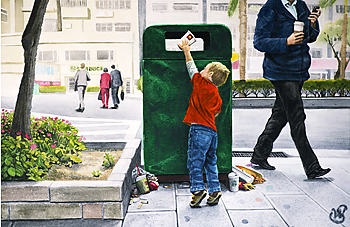 A heartfelt THANK YOU goes out to Richard Hawk, this month's juror for accepting "There Goes My Hero" into the San Diego Watercolor Society's August member show, "Pigment Figment," Fresh off the walls from the Made in California show at Brea Gallery, this painting seems to be quite popular!
49% of the trash you see in the streets of the United States is from fast food. The five most significant sources are McDonald's, Burger King, Seven Eleven, Starbucks and Wendy's in that order. This doesn't include the amount of trash in our oceans, which is predicted to outweigh marine life by the year 2050.
"There Goes My Hero", is one of my more recent pieces, an 18" X 12" watercolor from my It's Up to Us Series. We can't make people take responsibility for our world. All we have control over is ourselves: our actions, our habits, and our undying ability to inspire. "There Goes My Hero" is a dedication to those among us who take the simple, childlike actions in a world of chaos that keep us all human. If there is a future for us, it lies in what we teach our children.
The opening reception is this Friday August 4th and I look forward to seeing you all there!
---