Show Dates:
December 1, 2017 – December 30, 2017
Location:
SDWS, Liberty Station District
2825 Dewey Road, #105
San Diego, CA 92106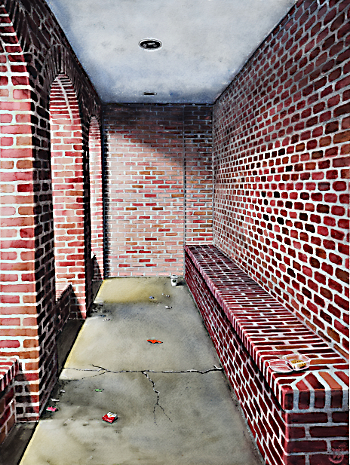 I am honored to received the news today that "Someone Else's Problem" has received third place in this month's San Diego Watercolor Society Member Show "Polar Distractions" jurored by award-winning Poway artist Mary Sievers.
"Someone Else's Problem" was inspired by the deep perspective and craftsmanship that went into a small alcove at a train station. The litter and refuse of people who had been here sang out like an exclamation point, turning a quiet spot among the noise and chaos into a sad commentary on who we are as humans.
One of the greatest things we can do to save our planet is to give our best effort to avoid making our presence here someone else's problem. I can't say it enough: we can't change people, all we have control over is ourselves, and by our actions, be the force that inspires others to follow.
The opening reception is this Friday December 1st and I look forward to seeing you all there!
---