Show Dates:
July 24th, 2017 – August 29th, 2017
Location:
Point Loma Credit Union
3777 Sports Arena Blvd.
San Diego, CA 92110
It was an exhausting day today, and I arrived home to find the type of email I will never grow tired of. Both of my submissions to the August San Diego Watercolor Society Point Loma Credit Union show have been accepted. Talk about a cure for a case of the "Mondays!"
"Someone Else's Problem" was completed just last month and inspired by a stop at San Juan Capistrano on the way to the reception for the Brea Gallery's 32nd Annual Made in California show in which I had two pieces showing, one of which has sold. A quiet waiting area at the train station drew me in until the peace among the chaos was shattered by the remnants left behind by those who had been here. The result was this hypnotic composition with a not-too-subtle message: we can better our world by not making our problems someone else's problem.
The mortar between the bricks was tediously painted with acrylic mask over which I washed various colors; when the mask was removed I softened the mortars with neutrals and tints. "Someone Else's Problem" is one of those pieces that was a little bit intimidating to work on because I was never sure how it would end. When it comes together nicely it's all the more rewarding.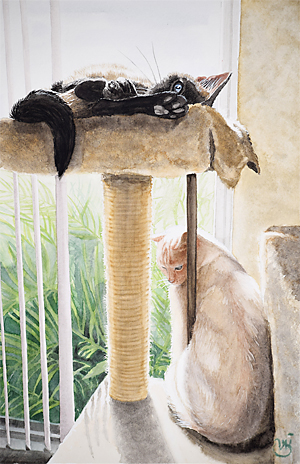 "Warming at the Window" was painted in January of this year and was shown in the February 2017 San DiegoSan Diego Watercolor Society Member Show which turned out to be the inspiration for one of my more enlightening blog posts. It was an unusually chilly San Diego morning and I needed to paint something warm, and there were our two household queens taking in the San Diego sunbeams.
I learned a few things while painting this one, see work in progress posts on my Instagram feed.
I love felines of all varieties, but "Warming at the Window" is not just a cat portrait, it is about the light and warmth of a sleepy-eyed Saturday chasing away the chilly corners of a home. It is also about one of the things cats have to teach us if we are willing to learn: cats are Zen masters of living in the moment, that the now is really all we have so live it to the fullest.
Gracious THANK YOU'S go out to this month's juror Keming Chen, Point Loma Credit Union, and most of all the San Diego Watercolor Society for the opportunity to be in this show. It's shaping up to be a very good year!
---